About
News
COMMUNITY INPUT HELPS SHAPE DESIGN ON THE I-5 ROSE QUARTER IMPROVEMENT PROJECT
Leading with the key project value of Transparent Decision Making, the I-5 Rose Quarter Improvement Project is seeing significant progress on design elements with community partnership. We're doing this in various ways, such as public design surveys, youth design forums for Black and Brown students, engagement with community-based organizations and outreach events in historic Albina and in communities throughout the Portland metropolitan area. Community voices are invaluable in informing our work, and there will be more opportunities ahead for you to provide your input on design elements of this project.
Community-informed design is happening with the help of online surveys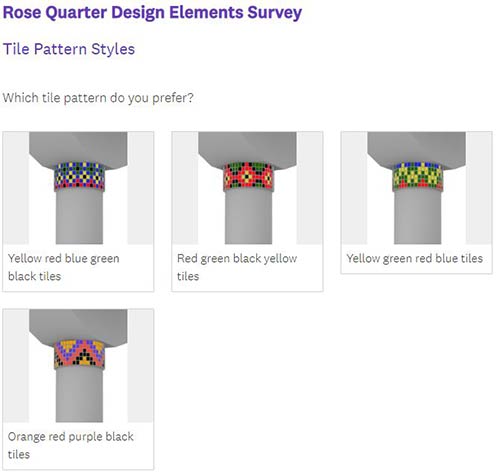 In April and May, an online design elements survey collected community feedback about the types of designs that could be added to highly visible areas of the new highway infrastructure (such as walls and highway columns). These design elements will honor the historic Albina community and make the project area feel more cohesive and reflective of the neighborhood's history. The historic Albina community members identified these designs as desirable elements to include on the barriers and columns. More than 300 community members shared their opinions about what they want to see in their neighborhoods. Results of the survey will be shared in June with the advisory committees and the public later in June. Check back on this website for more information.
Voices of young people are helping shape the Rose Quarter project
On May 14 at the Emmanuel Church, 50 Black and Brown youth came together to learn about and give input to the I-5 Rose Quarter Improvement Project. They were able to participate in several interactive sessions on community safety and mobility, sustainability, highway cover uses and honoring the historic Albina community through design. In addition to these sessions, the young adults were engaged in meaningful conversations with professionals working on the project and took part in a collaborative career panel discussion. We look forward to facilitating more activities like this youth design forum to involve young people and listen to their voices.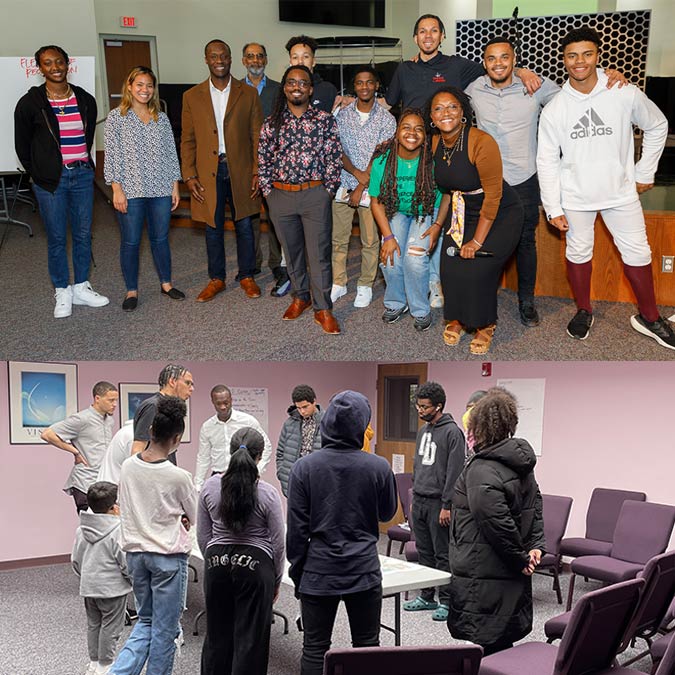 More opportunities planned for you to provide input
Keep an eye out for additional events and surveys planned for later this year where the community and the public can provide their input on the I-5 Rose Quarter Improvement Project. Our next design survey will be live in late June/early July to collect community feedback about the type of words and/or patterns that could be incorporated on walls and bridges located in the historic Albina community. Check this website often for more details on how to get involved and make your voice heard through future events and surveys.
Celebrating 50 years of Juneteenth in Oregon
Sunday, June 19 has been recognized as "Juneteenth" throughout the United States. This national holiday commemorates the day enslaved African Americans of Texas were declared free two years later than those in other states, who were freed with Abraham Lincoln's Emancipation Proclamation in 1863. In 1945, Oregonian Clara Peoples, a Kaiser Shipyards worker, introduced Juneteenth to her co-workers, and the rest is Oregon history. The Juneteenth festival became an annual city-wide celebration in 1972. Throughout the years, the family-friendly event has grown to include a parade, live music and entertainment, art, food, educational booths, cultural booths and community resources. This year, in honor of Mrs. Peoples' Juneteenth Oregon turning 50 years old, it will be a two-day-long event.
The I-5 Rose Quarter Improvement Project team will have a presence at the festival June 18 and 19 by hosting an informational table. Join us during this time of celebration, entertainment and festivities to acknowledge and pay homage to the descendants of American Slavery who migrated to Oregon with their families to create better lives and better futures for generations to come.
How do you want to engage?
If you're a member of a community organization, non-profit or business that would like to hear more about the I-5 Rose Quarter Improvement Project, we'd like to hear from you! We have speakers and a slide deck ready to join your upcoming meeting to present the latest project information and answer your questions. Contact us and let's talk!
Contact:
Rose Gerber
Public Outreach and Media Manager - Rose Quarter Project
Rose.Gerber@odot.oregon.gov