About
The purpose of the I-5 Rose Quarter Improvement Project is to improve safety and congestion where three major interstates converge and to reconnect the Albina neighborhood through the construction of a highway cover over a portion of I-5. Project benefits include improving safety and mobility on local streets, creating new space for community development and developing a diverse and skilled workforce.
This 1.8-mile stretch of highway is the only two-lane section of I-5 in a major urban area between Canada and Mexico. It has the highest crash rate on any urban interstate in Oregon and is the state's top traffic bottleneck. The project addresses the critical need to keep Oregon's people and economy moving.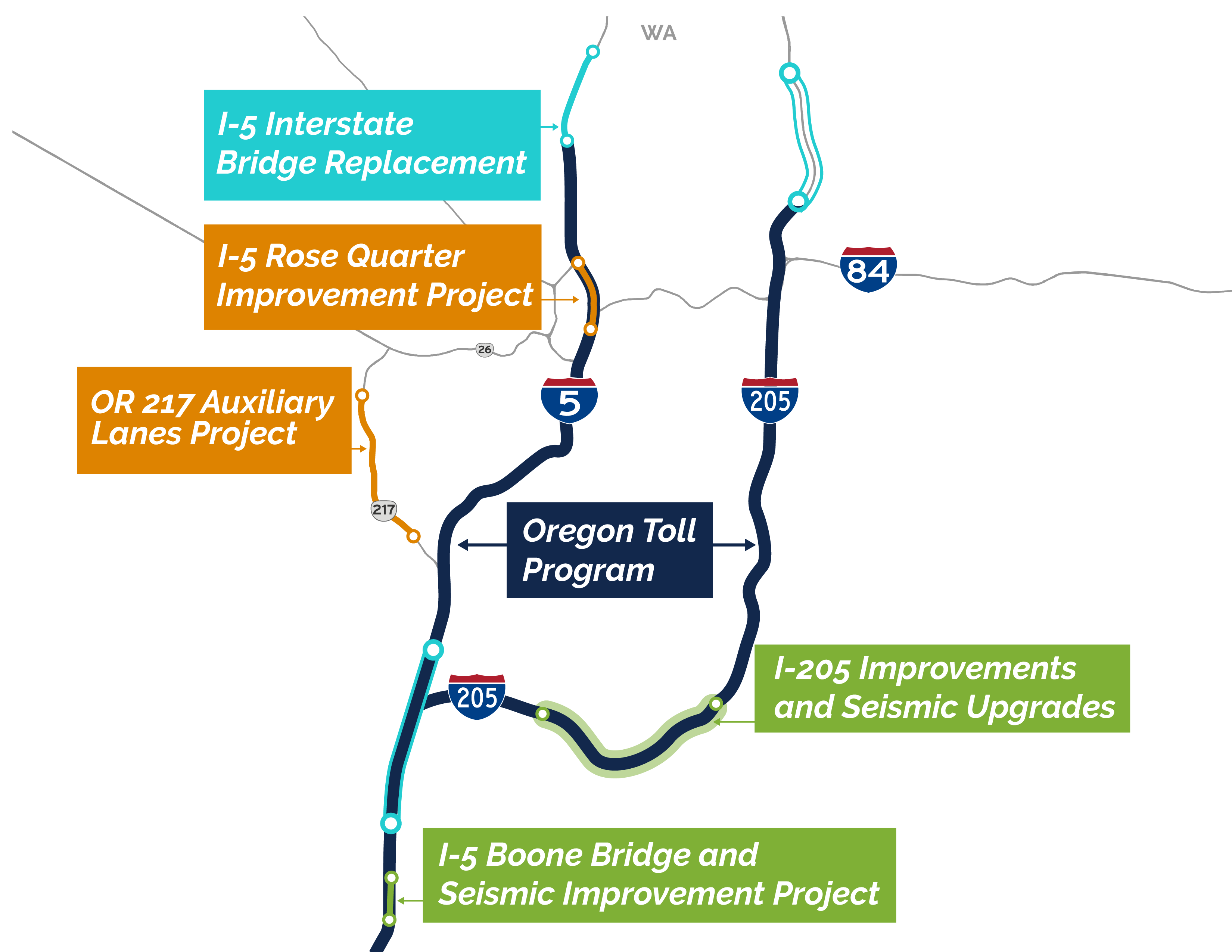 URBAN MOBILITY STRATEGY
The I-5 Rose Quarter Improvement Project is one of several large transportation projects in the Portland metro area being managed by ODOT's Urban Mobility Office (UMO). Other projects, such as the I-205 Improvements Project, the Interstate Bridge Replacement Program and the Regional Mobility Pricing Project (Oregon Toll Program), are all a part of a larger strategy known as the Urban Mobility Strategy.
The Urban Mobility Strategy is a cohesive approach to managing congestion, providing revenue to modernize infrastructure and investing in multimodal options throughout the region. Through this collective effort, ODOT will address equity, climate change, congestion relief and safety goals in ODOT's Strategic Action Plan.
PROJECT IMPROVEMENTS OVERVIEW
To make travel safer and more predictable on I-5 and throughout the Rose Quarter area, the project will make the following improvements:
Highway Cover

A new cover over I-5, similar to a very wide bridge, that reconnects local streets and creates new community spaces on top for future development and economic opportunities.

Hancock Crossing

A new east-west roadway crossing over I-5 that reconnects Hancock Street across the highway, adding another crossing north of Broadway/Weidler.

Multimodal Local Street Improvements

A variety of street improvements for people walking, biking and rolling.

Green Loop Connection

A link on Broadway/Weidler to the city's Green Loop, a 6-mile bike and pedestrian path that allows people to travel safely through the heart of the city.

Auxiliary Lanes and Shoulders

Ramp-to-ramp connections, paired with wider shoulders, that improve safety and reduce congestion at the state's top bottleneck.

I-5 Southbound Off-ramp Relocation

Relocation of the I-5 southbound off-ramp from N Broadway/N Vancouver Avenue to the south, connecting with NE Wheeler Avenue.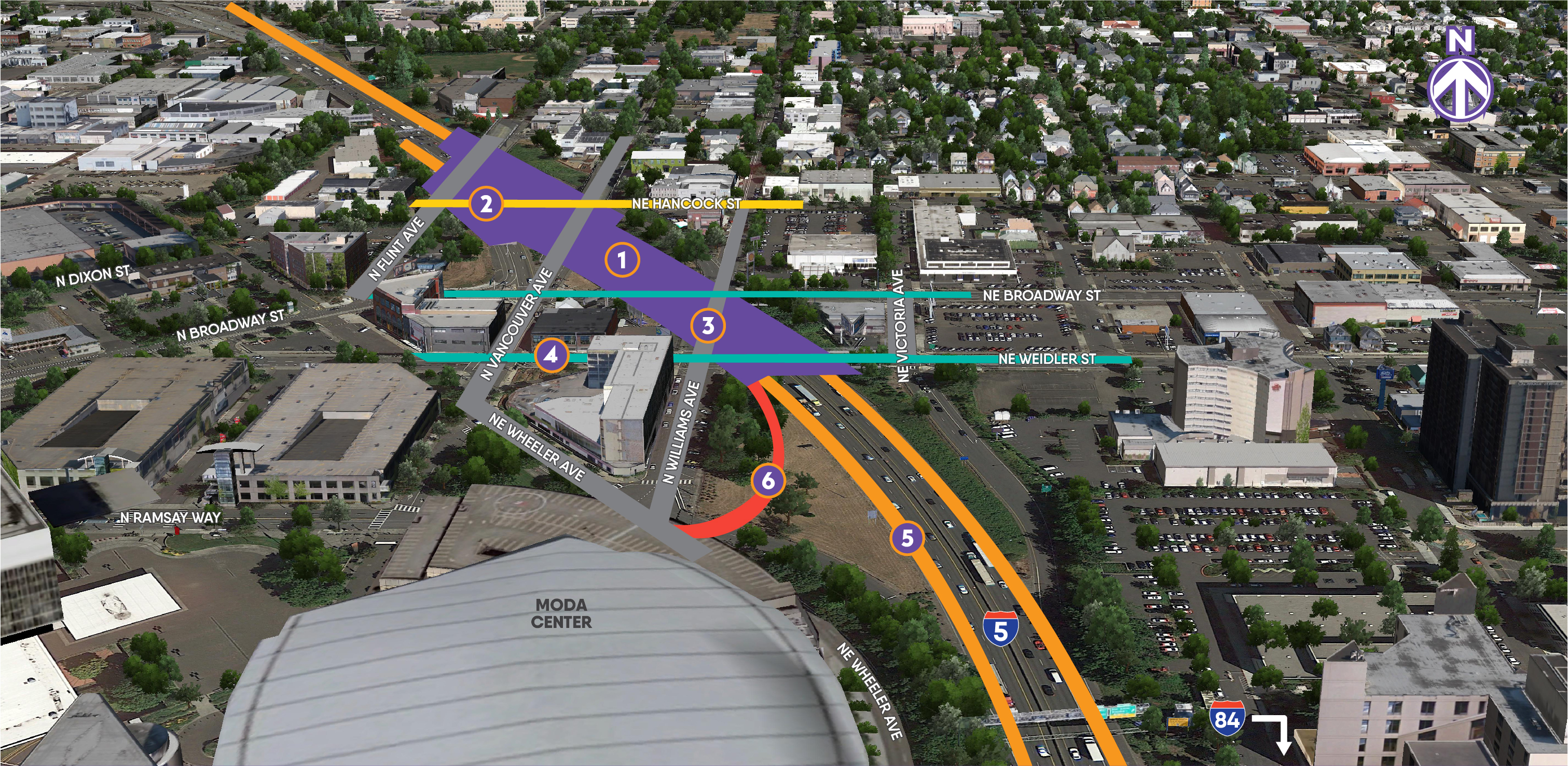 Highway Cover
What is a highway cover?
A highway cover is a structure built over a highway, similar to a very wide bridge. By replacing existing bridges with one continuous highway cover, new land space will be available for community development. In addition, the new cover will include seismic upgrades, making the structure over I-5 more resilient in the event of an earthquake.
Proposed Hybrid 3 Cover Concept
An Independent Cover Assessment in 2020 through 2021 evaluated multiple designs for the proposed highway cover. The Proposed Hybrid 3 Cover Concept received the strongest community support because it was viewed as the most effective in supporting the community's vision for a revitalized Albina neighborhood. The highway cover will connect streets that are currently divided by I-5 and add new land, allowing wider sidewalks and new spaces for community activities. Once built, the highway cover will be able to support buildings up to three or six stories, depending on the final design. It will also provide critical transportation access for community members and first responders.
The Historic Albina Advisory Board, Albina Vision Trust, the City of Portland, TriMet, Metro and Multnomah County have all endorsed this highway cover design concept.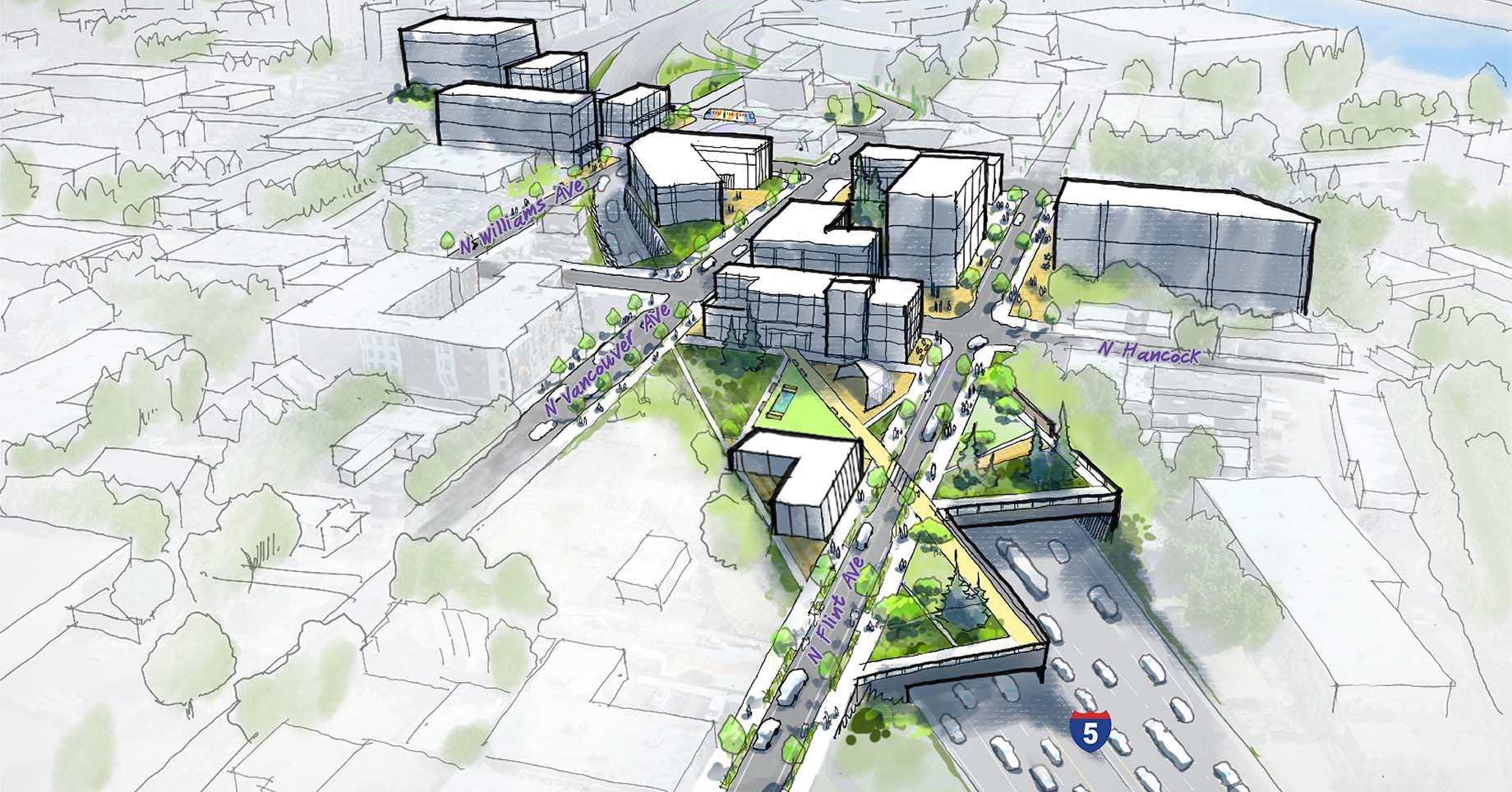 Hancock Crossing
The Proposed Hybrid 3 Cover Concept reconnects Hancock Street across I-5. Currently, there are few east-west connections over I-5 in the area. The community recommended the Hancock Crossing as an additional east-west connection for accessing current and future destinations in Lower Albina.
This new crossing will include space for people walking, biking and rolling, creating a safe and more connected option in the Albina neighborhood. It is aligned with the Central City 2035 Plan to develop and implement strategies to lessen the impact of freeways and other transportation systems on neighborhoods.
Multimodal Local Street Improvements
Local street improvements will make streets safer by offering greater visibility, protection and access to people walking, biking and rolling through the Rose Quarter area. Upgrades to sidewalks will include curb ramps that comply with the Americans with Disabilities Act (ADA) and additional street lighting. New protected bike lanes will add enough space for cyclists to move along the city's busiest bikeway. The goal of these improvements is to address Vision Zero safety priorities and ensure the community is more accessible.
Auxiliary Lanes and Shoulders
Three interstates (I-5, I-84 and I-405) converge in the short distance between the Morrison and Fremont bridges. The closely spaced interchanges and narrow shoulders create the worst traffic bottleneck in the state of Oregon and the 28th worst freight bottleneck in the nation. This stretch of I-5 also has the highest crash rate of any Oregon urban interstate.
Ramp-to-ramp connections (auxiliary lanes) reduce vehicle weaving by creating safer merging opportunities and improved connections between interchanges. A recent ODOT study found that auxiliary lanes are an effective way to improve safety and reduce bottleneck congestion.
In the Portland metro area, ODOT has completed or is planning to complete auxiliary lane projects on I-5 and I-205. For example, a new auxiliary lane addressed the I-5 southbound bottleneck from OR 217 to I-205, improving traffic flow. At the section of highway where the auxiliary lane was added, congestion was reduced from five hours a day to one hour a day, saving drivers an estimated $8.4 million of delay each year.
With a new auxiliary lane in each direction on I-5 from I-84 to I-405, drivers will experience a safer, more reliable experience and less potential for crashes. Adding full shoulders will provide space for vehicles to move safely off the road and allow emergency vehicles safer and quicker access to an emergency.
I-5 Southbound Off-Ramp Relocation
The I-5 southbound off-ramp will be moved to the south from N Broadway/N Vancouver Avenue, connecting with NE Wheeler Avenue near the Moda Center. The I-5 southbound on-ramp location will not change. Once the project is complete, both the southbound on-ramp and the southbound off-ramp will be located south of the Broadway/Weidler travel routes. This change will maximize space for new developable land on the highway cover.