About
News
I-5 ROSE QUARTER IMPROVEMENT PROJECT CONTINUES PROGRESS WITH ACHIEVEMENT OF 60% DESIGN FOR EARLY WORK PACKAGES
The project design team reached a significant milestone this spring as they completed 60% of the design on Early Work Packages A and B. See the timeline below for where we started and how we plan to implement improvements by 2029.

Early Work Packages support diverse workforce opportunities and maintain construction schedule
As the supplemental environmental assessment is underway to evaluate the benefits and impacts of the Proposed Hybrid 3 Concept highway cover design, preliminary design continues to progress. To best manage construction impacts to the community and traveling public, as well as support and maintain the Disadvantaged Business Enterprise (DBE) job and diverse workforce opportunities, the design was broken down into multiple work packages, designated as Early Work Packages A, B and C and Main Construction Package. This design approach keeps the project on track to begin construction in late 2023, pending the results of the supplemental environmental review, and allows DBEs multiple opportunities to work on project construction. The map below outlines the specific work areas of each package and the accompanying timeline.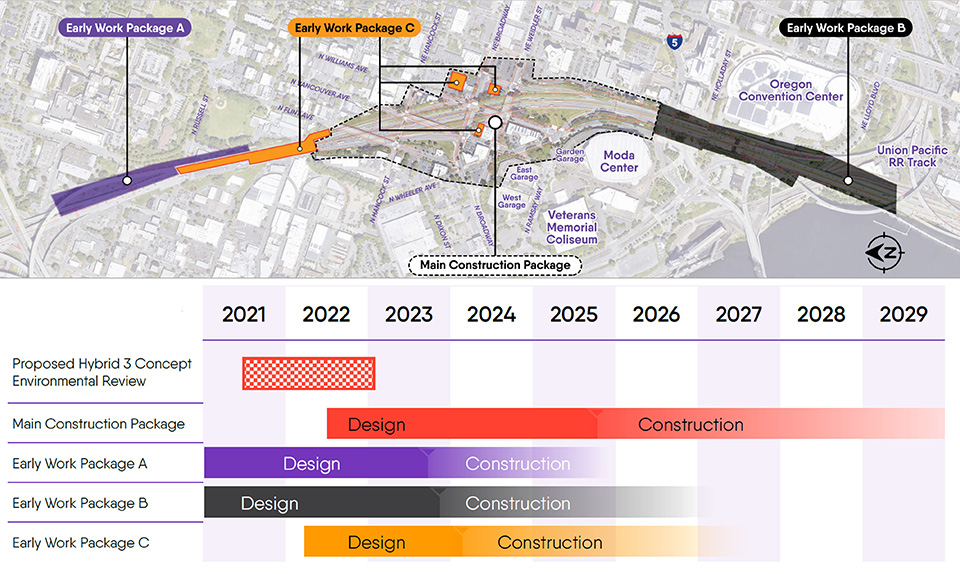 Early Work Packages A and B are both advancing to 90% design, with Early Work Package C advancing to 30% design; all three work packages are anticipated to reach their next percent milestone this fall. Main Construction Package design will continue to progress through 2025. View more information about the Early Work Packages.
Public input shapes project designs
In April and May, an online design elements survey collected community feedback about the types of designs that could be added to highly visible areas of the new highway infrastructure (such as crash barriers and columns). Results of this survey have been analyzed with a specific focus on Black voices and people with ties to the historic Albina community (see zip code map). These results will help the Historic Albina Advisory Board choose designs that will honor the historic Albina community and make the project area feel more cohesive and reflective of the neighborhood's history. View a summary of the results.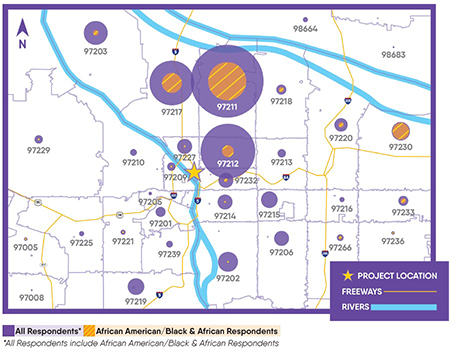 A second online design elements survey is now open, and we need your feedback! Results will inform the design details at two walls and six bridge locations within the project area to help shape the final designs. As with the previous survey, design options were identified by the Historic Albina Advisory Board (HAAB) as desirable elements to include within the historic neighborhood. The survey will be available until August 31. Take the survey now.
Stay tuned for future surveys to provide your thoughts and feedback on the I-5 Rose Quarter Improvement Project. We'll also be out at select community events over the summer. We look forward to talking with you!