About
News
A NEW LOOK FOR THE I-5 ROSE QUARTER PROJECT
In developing the new, community-centered project identity, ODOT engaged the services of two Black-owned small businesses, Stanton Global Communications and PDX Black Excellence. Their work combined to result in a brand that was heavily influenced by interviews with community members and conversations with Historic Albina Advisory Board members. Ralen Jones, founder of PDX Black Excellence, established his creative firm with the intention of making Black Portlanders feel seen in spite of its population of less than 6%.
PDX Black Excellence's creative director, Jarren Simmons, drew inspiration from Albina at a place in time when Black social cohesion was the norm in Northeast Portland. "Our hope is that with the help of our spotlight, Black Portlanders can fully see one another, then shine even brighter together," Jones said.
The new logo prominently features the onion-domed cupola of the Hill Block, the historic name of the former building at the corner of N. Russell and Williams that was the center of Portland's Black commercial district from the 1940s to the early 1960s. The Hill Block building's signature cupola is now part of a gazebo in Eliot Neighborhood's Dawson Park. The logo also features a nod to transportation in the "dotted road" outline of the design.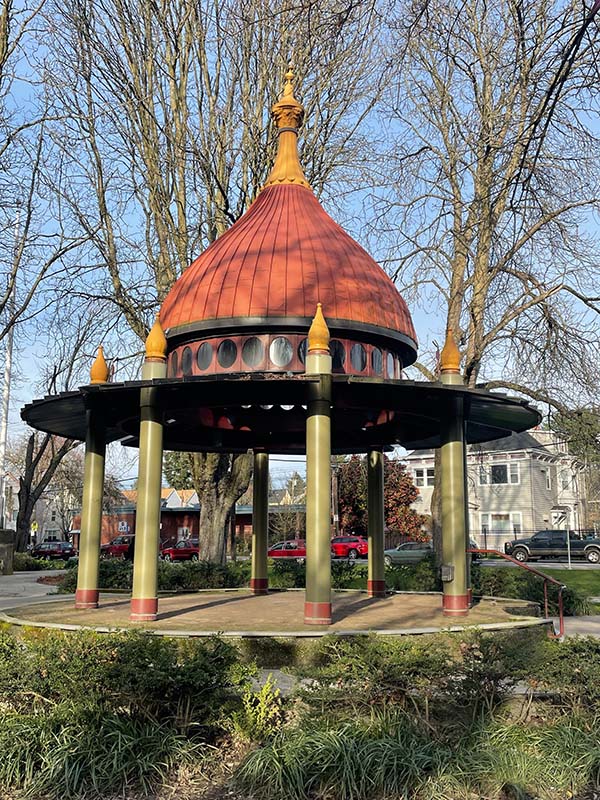 This website offers visitors a more inviting and engaging user experience, keeping people up to date with the latest I-5 Rose Quarter Improvement Project news and ways to engage with the project. The Project's rebrand encompasses a new website, re-design of key documents, social media campaign, outreach materials and an inspiring new video.
The new 5-minute video entitled "Voices of Albina" paints an honest picture of the reality of life for Black Portland's residents and their hopes for Albina's future. A product of PDX Black Excellence, under the leadership of veteran film producer Martin Jones of Martin Jones Films, the video speaks to the Black Portland experience and features notable local business leaders including Kimberly Dean, Paul Knauls and James Posey.
"There are so many opportunities on this project for new collaboration, new businesses, artists to be involved, folks to become journeymen in trades," said Ericka Warren, Historic Albina Advisory Board facilitator. "This is really a once-in-a-lifetime opportunity for us to be involved...my hope is that we leverage all of it."