About
News
INTERNS SHARE THEIR PERSPECTIVES ON ENTERING THE TRANSPORTATION INDUSTRY AND WHY YOUTH-CENTERED OUTREACH IS SO IMPORTANT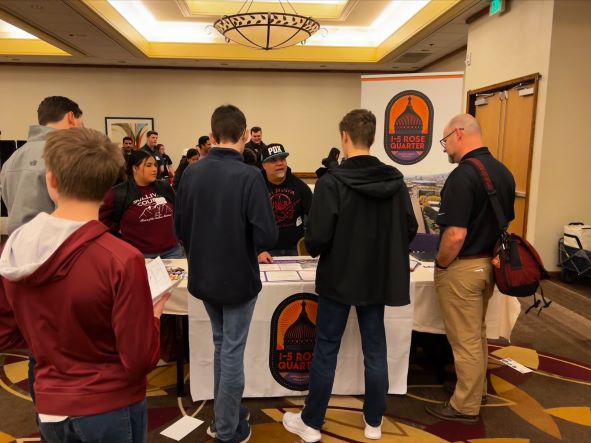 In February, the I-5 Rose Quarter Improvement Project team joined thousands of high school students from around the region in attending the 2023 Portland Workforce Alliance's NW Youth Career Expo and the Oregon Engineers Week Exhibit Hall and Career Fair. Students talked to experts and staff in various fields and industries, including interns who are gaining valuable experience working on the I-5 Rose Quarter Improvement Project.  
To more widely share the experiences of interns on the project, we spoke with two interns from the project's Construction Manager/General Contractor (CM/GC), Hamilton Sundt, a Joint Venture in association with Raimore Construction, and one from a project consultant, WSP USA.
Dagny Battaglino (she/her)

Transportation Civil Engineering Intern

WSP USA

Valentin Gashongore (he/him)

Civil Engineering Intern

Hamilton Sundt, a Joint Venture

Jovanna Quezada-Montano (she/her)

Field Engineer Intern

Raimore Construction
*Order is alphabetical by last name from left to right.
Dagny Battaglino
While Dagny studies civil engineering at the University of Portland, she's also a part-time intern for WSP USA, a global engineering firm. She supports multiple projects, including the I-5 Rose Quarter Improvement Project, running calculations for the design team, working on traffic sign locations and assisting the public involvement team with report analysis and presentation statistics. According to Dagny, this diverse experience has helped her feel more prepared for workplace expectations and pace.  
Outreach to the next generation is important to Dagny because:  

Dagny:
Previous generations hold so much knowledge from their years of experience, and the best way to pass that on is by reaching out to new [and future] employees. Personal experiences, rules of thumb, project stories, and offhand anecdotes hold so much information that can only be shared when connections are made.
Valentin Gashongore
Valentin (Val), a civil engineering student at Portland State University, is currently an intern with Hamilton Sundt, a Joint Venture. As part of the CM/GC team, Val has taken on a unique range of tasks, including work on various drawings in AutoCAD to assist with design plans for the project. He's also had the opportunity to participate in task and planning meetings, which has helped him understand the full scope of the I-5 Rose Quarter Improvement Project. 
When asked about outreach at youth-centered career events and his personal experience, Val responded:

Val:
I had the opportunity to go to career events, but I didn't have the opportunity to get involved within a project or around a project. I would've liked to see more opportunities like this because it helps the youth form some type of career path forward for themselves, especially coming out of high school, by seeing employees that look like them and/or relate to them.
Jovanna Quezada-Montano
As a civil engineering student at Portland State University, Jovanna was thrilled to join Raimore Construction as a field engineer intern. In this role, she provides many forms of technical support, including report creation, managing technical and safety documentation, and directing crews. She's also worked on traffic control plans that allow traffic to move safely through roadway work zones, supported project estimations, interacted with public agencies such as TriMet and Portland Bureau of Transportation to meet city requirements, and submitted applications and permitting requests to prepare crews.  
Jovanna described the most interesting part of her internship so far on the I-5 Rose Quarter Improvement Project to as:

Jovanna:
The numerous businesses, organizations, agencies and stakeholders coming together to analyze and design this project. Equally amazing is the act of giving opportunities to the community, minority-owned and women-owned businesses, and other disadvantaged business enterprises.
Thank you!
Many thanks to Dagny, Val, Jovanna and all of the project's interns for their hard work on the I-5 Rose Quarter Improvement Project. We wish them well in their future endeavors. The project is prioritizing more opportunities like these for students and others looking to enter the trades and construction and engineering fields. Learn more about workforce opportunities on the project website.  
MARK YOUR CALENDARS FOR A COMMUNITY HIRING EVENT ON MAY 9, 2023
The I-5 Rose Quarter Improvement Project team will join TriMet, and project partner agencies, including the City of Portland and ODOT, for a community hiring event on Tuesday, May 9, 2023, from 10 a.m. to 3 p.m. at the Doubletree Lloyd Center, 1000 NE Multnomah St., Portland, OR 97232. This free, public event will provide unique access to living wage jobs available now through local employers, with some making hiring offers on the spot. Stop by to learn about:
job opportunities in the trades, construction, transportation, and local government 
living-wage jobs with a high school degree/GED or directly out of college 
earn-as-you-learn job opportunities 
apprenticeships and training, and  
debt-free career pathways 
Additional service providers will be there to offer information regarding childcare support services, identification assistance, life coaching, record expungement, and job prep (including free headshots). 
Visit nowilive.com for more information and Frequently Asked Questions, and then stop by the I-5 Rose Quarter Improvement Project table at the event.