About
Design & Construction
Project Status
ODOT and the Federal Highway Administration (FHWA) are moving ahead as expected with conducting a supplemental Environmental Assessment process for the proposed Hybrid 3 cover concept. Updating the Environmental Assessment is an important step to advance the proposed Hybrid 3 highway cover design and is a step we anticipated. With this additional effort to respond to the community-recommended highway cover design, the project timeline is still on schedule for construction to start as soon as late 2023.
Spring 2022 Design Elements Survey Results
In April and May, an online design elements survey collected community feedback about the types of designs that could be added to highly visible areas of the new highway infrastructure (such as crash barriers and columns). Results of this survey have been analyzed with a specific focus on Black voices and people with ties to the historic Albina community. This is the first of several short surveys we intend to conduct to obtain input on highway infrastructure design details. View the results of the first survey.
Spring 2022 Fieldwork
As soon as the middle of May and continuing through June, ODOT contractor crews will continue geotechnical investigations which include soil and material sampling in the Rose Quarter project area. To sample materials, crews use a truck-mounted drill rig to collect soil and material for analysis. Holes will be filled once a sample has been collected. This work will ensure the I-5 Rose Quarter Improvement Project team develops designs that are appropriate for local soil conditions.
What to Expect
Work dates*: Middle of May through June
Daytime work: Mon-Sat, 8 a.m. to 5 p.m.
Nighttime work: Mon-Sun, 8 p.m. to 5 a.m.
Typical construction impacts such as a slight increase in noise, vibration and dust. For construction noise issues, call our please call: 971-336-1632.
*Soil and material sampling work is weather dependent, and dates may change as work approaches.
Location of work and impacts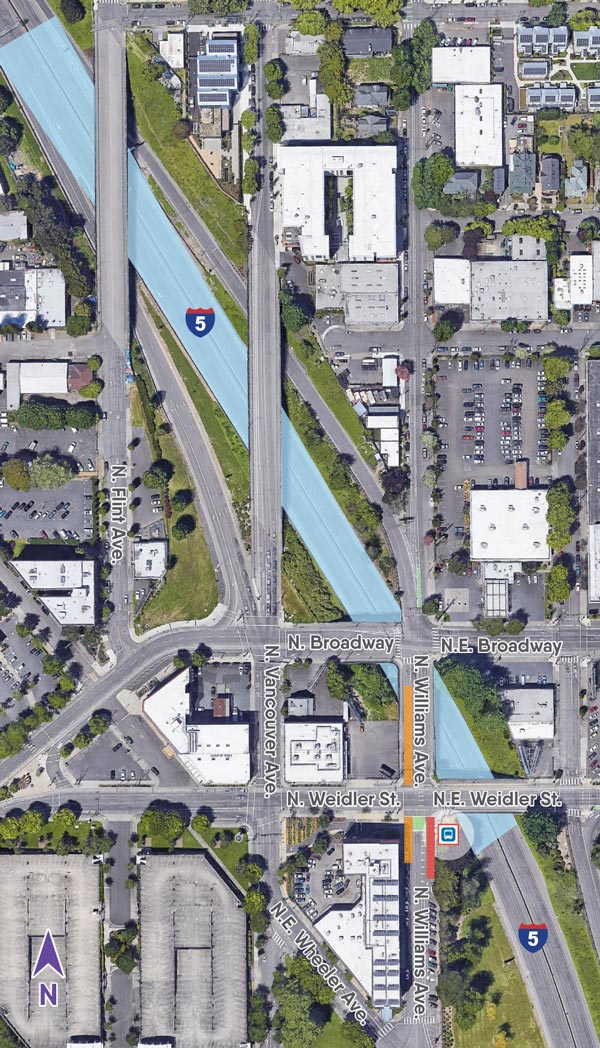 Along I-5 between N.E. Tillamook St. and N. Ramsay Way
Some nighttime lane closures will be required to complete this work. Visit TripCheck for details on specific timing and location of these closures.
In the leftmost turn lane of northbound N. Williams Ave. between N. Broadway and N. Ramsay Way
The leftmost turn lane will be closed. Drivers will need to use the middle lane to turn left.
Work is expected to last up to two days.
In the rightmost turn lane of northbound N. Williams Ave. between N.E. Weidler St. and N. Ramsay Way
The rightmost turn lane will be closed. Drivers will need to use the middle lane to turn right.
The bus stop on N. Williams Ave. at N.E. Weidler St. will be closed form 8 a.m. to 3 p.m. during this work. Visit TriMet for details.
Work is expected to last up to four days.

Design
Design work for the project continues. Throughout the design phase, there are many opportunities to share opinions and shape the design of the highway cover, local streets, walls and overpasses and other features.
Local streets
The Proposed Hybrid 3 Concept changed the planned local street design for the highway cover and seven local streets are now under consideration for improvements: N Williams Avenue, N Vancouver Avenue, N Flint Avenue, NE Victoria Avenue, N Broadway, N Weidler Street and N Hancock Street. Each one of these streets plays an important role in how people will travel through the Albina area.
As design progresses, we are looking to the community to share what is important and help us shape local street improvements such as:
sidewalk design and street crossings for people walking, rolling and biking through the area
the look and feel of the street environment and gathering spaces for people
location of bus stops, amenities at bus stops and placement of traffic signals
design and placement of bicycle paths
location of parking, loading and drop-off locations
Walls and overpasses
There is over a mile worth of walls, support columns and bridge decks added as part of Proposed Hybrid 3 Concept. These hard surfaces will be seen by people traveling on I-5 and by people walking, rolling, biking, driving and riding transit in the neighborhoods around the freeway. We want the community to help shape the look and feel of these structures. There are design opportunities on the I-5 Rose Quarter Improvement project that would honor the legacy of Albina through design of:
textured concrete patterns with cultural reference to the African diaspora
vibrant murals created by Black artists
creative usage of the natural landscape
artistic enhancement of retaining walls, columns and overpasses
Watch the October 19 presentation to hear the Historic Albina Advisory Board's (HAAB) discuss future opportunities to shape the design of the highway cover, local streets, walls and overpasses. The HAAB will continue discussing local streets improvements at future meetings. While we'll be bringing these and other considerations to the public next year, there are a number of ways you can get involved and share your feedback on the project today.
Construction
Construction is anticipated to begin on early work packages, where the greatest opportunities for Disadvantaged Business Enterprises lie, following completion of the Project's supplemental environmental review, expected as soon as late 2023. In the meantime, crews have been completing fieldwork such as surveying and material sampling in the Rose Quarter area. This early fieldwork is to understand current site conditions to help inform project design. Fieldwork is ongoing through June 2022.